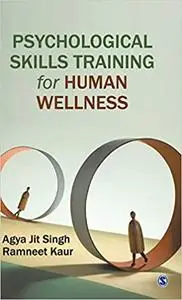 Agya Jit Singh, "Psychological Skills Training for Human Wellness"
English | ISBN: 9353886686 | 2021 | 328 pages | PDF | 2 MB
Psychological skills training (PST) involves learning essential psychological skills that help the human mind to function at a high level, irrespective of circumstances. The major skills include stress management, resilience, self-motivation, self-confidence, sustaining focus, leadership, goal setting and planning, conflict resolution, time management and communication skills. PST programmes involve directions, practice and feedback in order to learn these skills effectively. PST is used in a variety of educational, professional, sporting and health settings.
Psychological Skills Training for Human Wellness provides a comprehensive reference to all aspects of PST and presents a holistic view of the subject area. It shows how PST serves the needs of multiple domains and user groups of different ages and at various life stages. It covers each area of skill development in detail. The book will prove to be an indispensable source for academic and research psychologists and will be highly useful for professional psychologists interested in the implementation of PST for their clients.
Read more