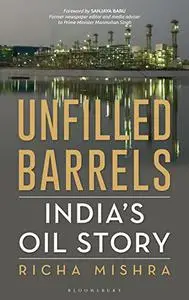 Unfilled Barrels: India's Oil Story by Richa Mishra
English | March 28, 2022 | ISBN: 9354350127 | True EPUB | 220 pages | 2.9 MB
"Aap Akbhaar mein kaam karte ho, toh yeh batao, tel ka daam intna zayda kyo hai?" (you work for a paper, tell me why petrol/diesel price is so high), this question I have been asked more often than not. In fact, being a reporter covering oil ministry has not been easy. Even your family looks at you with accusation if the fuel prices go up.
As days went by and I got more exposed to the working of this sector, I felt the need to pen down certain things which showcase what the sector is all about. For most economic reporters covering the Ministry of Finance is the ultimate. Well yes and no. If you have not tracked ministry of petroleum and natural gas you really don't know what economics is about, literally.
Through this book I try to recount India's upstream journey. It is very important to know the role which KD Malaviya played, or what ONGC stands for, Why New Exploration Licensing Policy was a game changer, what an amazing player Cairn Energy was, what corporate war is, and finally how consistency in governance help.
The book tells the story of India's upstream sector. Why producing your own oil and gas matters?