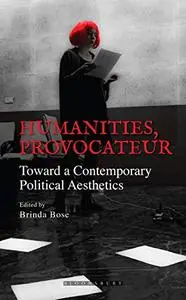 Humanities, Provocateur: Towards a Contemporary Political Aesthetics by Brinda Bose
2021 | ISBN: 9388414926 | English | 344 pages | PDF | 3.8 MB
This highly original collection is a far cry from the demand on the literary humanities to offer the soothing hum of theory to a world of breaks, crises and pain. Instead, it exemplifies a way ahead for the critical humanities….
-Arjun Appadurai, New York University
'Doing the Humanities' comes to life in this passionate, provocative set of experiments in descriptive poetics. Failure, fantasy, freefall are reconceived as forms of aesthetic achievement across the creative arts.…
-Ros Ballaster, University of Oxford
….This timely volume inspires a collective undertaking to learn 'to do' the humanities through the untimeliness of a work of art. A humanities that remains attentive to this form of techné will prove indispensable to remaking the world in the aftermath of a pandemic.
-Premesh Lalu, University of the Western Cape
….exhilarating in the democratic breadth of its interests, the emotional fervour of its commitments and its yoking of systemic criticism to the work of poetic language.
-Helen Small, University of Oxford
How can the humanities make an intervention in such a time as this, when life as we have known it hangs in pandemic balance since the spring of 2020-and when contagion calls for distancing and isolation, while loneliness cries out for the solace of touch? Perhaps only by being, at once, fearless, critical, sorrowing, exultant, enraged, intimate.
Humanities, Provocateur brings you fourteen essays and two creative pieces by established as well as younger scholars and writers from America, Europe, the Middle East, South Africa and South Asia, in a bracing invitation to a freefall of reading. They travel from classical literatures and philosophy to twentieth-century writing, cinema and critical-imaginative thinking, grouped whimsically around a set of provocations-Gleaning, Perforation, Caprice, Paraphernalia, Descent, Flux, Flesh, Ephemera-and welcome you to argue, to cherish or to distrust. Taking sharp, sparkling twists and turns in thought and style, this eclectic collection of writings incites you to be intellectually adventurous and destitute at the same time. And, invoking Dante, to never be afraid, for our fate is our gift.