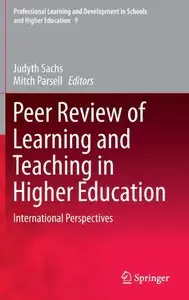 Judyth Sachs, Mitch Parsell, "Peer Review of Learning and Teaching in Higher Education: International Perspectives"
2014 | ISBN-10: 9400776381 | 185 pages | PDF | 1,4 MB
Incorporating both theoretical and practical perspectives, this volume of papers explores varied aspects of peer review of teaching in higher education. The section on theory features contributions from academics based in Europe, North America and Australia. It provides a number of models demonstrating ways in which collegial peer commentary can enhance the quality of learning and teaching. The chapters examine in detail the importance of communication and leadership, and deploy evidence from one-on-one interviews that evince the value of considering collegiality, emotions, attitudes, and spaces in peer review. The analysis shows how these factors are central to the ways in which lecturers and teachers communicate with each other to create constructive opportunities for learning.
The chapters on practical considerations detail the peer review process and include case studies from institutions in Africa, Europe, North America and Australia, which focus on different areas of the topic, including peer review as a quality assurance mechanism, peer review in distance education, peer review in foundation courses, and peer review embedded within a department and across a university. The book ends with an international perspective on the role of peer review in ensuring a holistic approach to quality enhancement in learning and teaching.