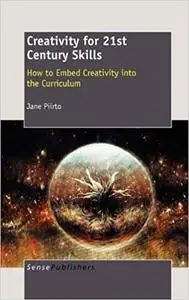 Jane Piirto, "Creativity for 21st Century Skills: How to Embed Creativity Into the Curriculum"
English | ISBN: 9460914624 | 2011 | 214 pages | PDF | 3 MB
"VERY practical, on target for schools today-good balance of theory with anecdotal connections." "At first I was worried about the time involved. I discovered when given 5 minutes . . . the time is a continuation to their work in progress. Realizing that creativity does not have to consume large chunks of time is more meaningful than tokens." "I like the tone of the writing. It feels like there is a conversation going on." "I like the stories of famous people and how their creativity influenced and changed their lives." CREATIVITY FOR 21ST CENTURY SKILLS describes what many creative people really do when they create. It focuses on the practical applications of a theoretical approach to creativity training the author has developed. Many suggestions for enhancing creativity focus on ideas that are over 60 years old. This new approach may be helpful for those seeking to develop 21st Century Skills of creativity. Five core attitudes (Naiveté, Risk-taking, Self-Discipline, Tolerance for Ambiguity, and Group Trust), Seven I's (Inspiration, Intuition, Improvisation, Imagination, Imagery, Incubation, and Insight), and several General Practices-the use of ritual, meditation, solitude, exercise, silence, and a creative attitude to the process of life, with corresponding activities, are described, discussed, and illustrated. A discussion of how to be creative within an educational institution is also included. JANE PIIRTO is Trustees' Distinguished Professor at Ashland University. Her doctorate is in educational leadership. She has worked with students pre-K to doctoral level as a teacher, administrator, and professor. She has published 11 books, both literary and scholarly, and many scholarly articles in peer-reviewed journals and anthologies, as well as several poetry and creative nonfiction chapbooks. She has won Individual Artist Fellowships from the Ohio Arts Council in both poetry and fiction and is one of the few American writers listed as both a poet and a writer in the Directory of American Poets and Writers. She is a recipient of the Mensa Lifetime Achievement Award, of an honorary Doctor of Humane Letters, was named an Ohio Magazine educator of distinction. In 2010 she was named Distinguished Scholar by the National Association for Gifted Children.