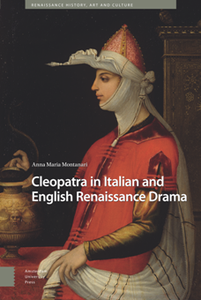 Cleopatra in Italian and English Renaissance Drama
by Anna Maria Montanari
English | 2019 | ISBN: 9462985995 | 311 Pages | PDF | 2.87 MB
This book considers some of the main adaptations of the character of Cleopatra for the Renaissance stage, travelling from Italy to England to arrive finally to Shakespeare. It shows how each reading of the story of Cleopatra is unique to and expressive of the culture which produced it, even as writers drew from the same sources from Antiquity. For the first time texts belonging to different cultures, rigorously presented, are brought into dialogue on such questions as moral standpoint, gender and the representation of the exotic. Moreover, through the fascinating figure of Cleopatra, the reader is able to explore the development of Renaissance tragedy, in its commercial and non-commercial versions. Ultimately both questions at the heart of this study - concerning Cleopatra's identity and her translation into theatre - converge to be (dis)solved by Shakespeare.
If you want to support my blog, then you can buy a premium account through any of my files (i.e. on the download page of my book). In this case, I get a percent of sale and can continue to delight you with new books!