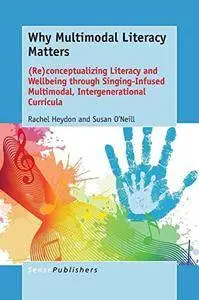 Why Multimodal Literacy Matters: (Re)Conceptualizing Literacy and Wellbeing Through Singing-Infused Multimodal, Intergenerational Curricula by Rachel Heydon, Susan O'Neill
2016 | ISBN: 9463007067, 9463007075 | English | 166 pages | PDF | 9 MB
Literacy research has focused increasingly on the social, cultural, and material remaking of human communication. Such research has generated new knowledge about the diverse and interconnected modes and media through which people can and do make meaning and opened up definitions of literacy to include image, gaze, gesture, print, speech, and music. And yet, despite all of the attention to multimodality, questions remain that are fundamental to why multimodal literacy might matter to people and their communities. How, for instance, might multimodal literacy be implicated in wellbeing? And what of the little-researched sonic in multimodal ensembles? For centuries singing, as a basic form of human communication and tool for teaching and learning, has been used to share knowledge and pass on understandings of the world from one generation to another. What, however, are the implications of singing and its effects on people's prospects for learning and making meaning together? In this thought-provoking book, the authors explore notions of wellbeing and what is created when skipped generations are brought together through singing-infused multimodal, intergenerational curricula. They argue for the import of singing as a multimodal literacy practice and unite theoretical ideas, practical tools, and empirical research findings from a ground-breaking seven-year study of intergenerational singing in multimodal curricula. Educators and researchers alike will find in the pages of this interdisciplinary book responses to the question of why multimodal literacy might matter and a sample curriculum designed to foster the expansion of people's literacy and identity options across the lifespan.