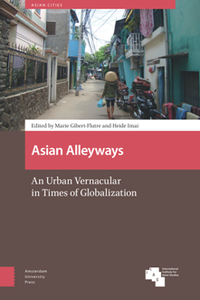 Asian Alleyways : An Urban Vernacular in Times of Globalization
by Marie Gibert-Flutre, Heide Imai
English | 2020 | ISBN: 9463729607 | 229 Pages | True PDF | 26 MB
Asian Alleyways: An Urban Vernacular in Times of Globalization critically explores 'Global Asia' and the metropolization process, specifically from its alleyways, which are understood as ordinary neighbourhood landscapes providing the setting for everyday urban life and place-based identities being shaped by varied everyday practices, collective experiences and forces. Beyond the mainstream, standardising vision of the metropolization process, Asian Alleyways offers a nuanced overview of urban production in Asia at a time of great changes, and will be welcomed by an array of scholars, students, and all those interested in the modern transformation of Asian cities and their urban cultures.
If you want to support my blog, then you can buy a premium account through any of my files (i.e. on the download page of my book). In this case, I get a percent of sale and can continue to delight you with new books!