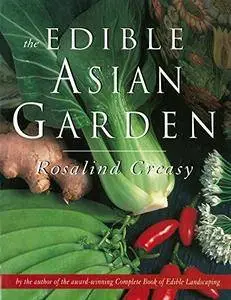 The Edible Asian Garden (The Edible Garden Series) by Rosalind Creasy
English | March 1, 2000 | ISBN: 962593300X | True EPUB | 108 pages | 18.5 MB
With beautiful photography and region-specific growing tips, The Edible Asian Garden features delicious recipes and gardening techniques from China, Japan, India and Southeast Asia.
With plant information and practical how-to, author Rosalind Creasy takes us on a tour of three of her own successful Asian gardens—one suitable for cool weather, another for warmer weather, and a stir-fry garden—to show the variety of vegetables that can be grown in a range of climates and for a variety of purposes.
In "The Asian Garden Encyclopedia," Creasy gives information for 108 distinct varieties of Asian vegetables. Looking for a novel ingredient to add to Friday night stir-fry supper? Why not grow it—the Resources section offers many seed sources for Asian vegetables that are easier to plant than to find at your local market.
Finally, in the Recipes section, Creasy presents common Asian ingredients and cooking methods.
Featured Asian recipes include:
Pickled Ginger
Lemon Grass Tea
Carrot and Garlic Stir-fry
Pea Shoots with Crab Sauce
Thai Chicken Soup with Pigeon Peas
Vietnamese Salad Rolls
Winter Squash, Japanese Style
Thai Red Vegetable Curry
Vegetable Tempura
And many more!