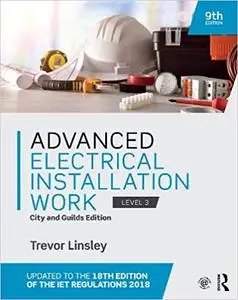 Advanced Electrical Installation Work: City and Guilds Edition, 9th Edition by Trevor Linsley
English | 2020 | ISBN-13 : 978-0367359751 | 434 Pages | True EPUB | 80.86 MB

This new edition covers the City and Guilds 2365-03 course, updated in line with the 18th Edition of the Wiring Regulations. Written in an accessible style with a chapter dedicated to each unit of the syllabus, this book helps you to master each topic before moving on to the next. This new edition includes information on construction and demolition sites, fire proofing, energy efficiency and LED lights, as well as some updated diagrams. End of chapter revision questions help you to check your understanding and consolidate the key concepts learned in each chapter.
• Full colour diagrams and photographs explain difficult concepts
• Clear definitions of technical terms make the book a quick and easy reference
• Extensive online material helps both students and lecturers
The companion website contains videos, animations, worksheets and lesson plans, making it an invaluable resource to both students and lecturers alike.