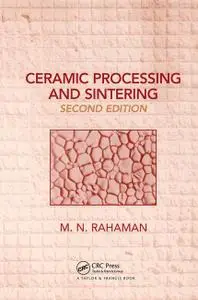 Ceramic Processing and Sintering (Materials Engineering Book 1) 2nd Edition (Instructor Resources) by Mohamed N. Rahaman
English | 2017 | ISBN-13: 978-0824709884 | Instructor Resources | PDF | 5.91 MB

As the field's premiere source, this reference is extensively revised and expanded to collect hard-to-find applications, equations, derivations, and examples illustrating the latest developments in ceramic processing technology. This book is concerned primarily with the processing of polycrystalline ceramics and focuses on the widespread fabrication of ceramics by the firing of consolidated powders forms. A brief treatment of sol-gel processing is also included.
Ceramic Processing and Sintering, Second Edition provides clear and intensive discussions on colloidal and sol-gel processing, sintering of ceramics, and kinetic processes in materials. From powder synthesis and consolidation to sintering and densification behavior, this latest edition emphasizes the impact of each processing procedure on ceramic properties. The second edition also contains new and extended discussions on colloid stability, polymer growth and gelation, additives in ceramic forming, diffusion and defect strucutre, normal and abnormal grain growth, microwave sintering, Rayleigh instability effects, and Ostwald ripening.