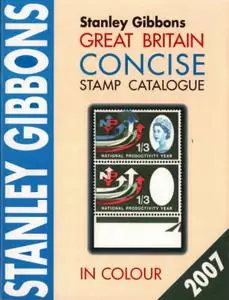 Collectif, "Stanley Gibbons - Great Britain Concise Stamp Catalogue"
2007 | ISBN: 0852596472 | English | PDF | 400 pages | 33.6 MB
The ever-popular "Stanley Gibbons Great Britain Concise" provides the perfect catalogue for the collector seeking more detailed information than that provided by the Collect British Stamps checklist, without the comprehensive coverage of the five-volume specialised series. The new 22nd edition is again in full colour throughout, providing, as always, priced listings of definitives and commemoratives, regionals, postage dues, departmental officials, postal fiscals, errors, first day covers, booklets, specimens and post office label sheets ('smilers'). Listings are complete from May 1840 to March 2007 and nearly 30 new items have been added to earlier issues, as well as the stamps of the past year. There is also an updated design index and helpful diagrams of the 'X' Machin booklet panes. Re-set in a new, more readable typeface, there have been a number of editorial additions and improvements.
Footnotes have been provided describing further unlisted items and, following requests from catalogue users, separate prices are now given for gutter pairs of the 1977-87 Machin high values and there are clear illustrations to aid correct identification of the self-adhesive Machin perforation varieties (SG2039-40a). Prices have been revised throughout in line with today's very active GB market. From Queen Victoria to modern errors and from recent commemoratives to pre-decimal booklets, significant price adjustments make this a catalogue that no serious Great Britain collector can afford to be without.