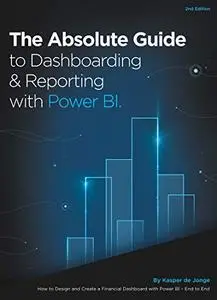 Dashboarding & Reporting with Power BI
by de Jonge, Kasper
English | 2019 | ISBN: 1615470573 | 163 pages | True PDF | 6.37 MB
Written by a member of Microsoft's Power BI team, this book provides a practical step by step guide on creating a financial dashboard using Power BI desktop and the PowerBI.com service.
The book contains 6 chapters:
Introduction. Here I introduce the book, business intelligence and provide some history on Power BI
Understanding Dashboards and Report. Here we talk about what dashboards and reports are and how they are used in Power BI. Finally we talk about how to decide what to put on your reports and dashboards.
Collecting and preparing data. Here we install Power BI desktop, import data into Power BI and do some mashup using Power Query. We also discuss data modelling tips and tricks and start with some DAX (can't have a book without DAX right :)).
Building the main report. Here we will create the main report in Power BI Desktop, using the data model he set up in Chapter 3. We create various data visualizations needed for his report (and talk about which visualization to use when).
Building detailed reports. Here we dive into more detailed report building with more DAX examples, sync slicer, custom visuals defining crossfiltering.
Sharing dashboards and reports within and organization. In this Chapter we are going to upload our report to PowerBI.com and collaborate with others on our solution using workspaces. Finally we will distribute it to the users in our organization with Apps.
After following all these steps it will provide a full end to end overview to build a financial dashboards, including downloads for all the steps and samples.