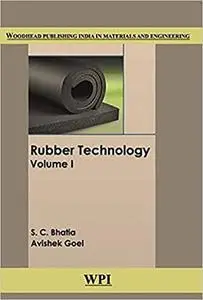 Rubber Technology: Two Volume Set by S.C. Bhatia
English | 2019 | ISBN-13: 978-9388320009 | 701 Pages | True PDF | 10.1 MB
This two-volume set summarises various aspects of natural, synthetic rubbers, vulcanisation mixing and calendering, manufacturing techniques of various rubber. It discusses: basic concepts of polymerisation, natural rubber, synthetic rubbers: an overview, styrene butadiene rubber, polybutadiene rubber, polyisoprene rubber, butyl and halobutyl rubber, ethylene propylene rubber, thermoplastic rubber (Elastomers), chloroprene rubber, chlorosulphonated polyethylene rubber, nitrile rubber, polyacrylic rubber, fluorocarbon rubber, silicone rubber, thermoplastic polyurethane, PEVA, chlorinated polyethylene and ethylene acrylic elastomers, polysulphide, norbornene and polyphosphazene rubbers, materials for compounding and reinforcement, mixing and curing of rubber compounds, calendering, extrusion and molding of rubber compounds.
A unique features of the book is chapter on chemistry and technology of vulcanisation.