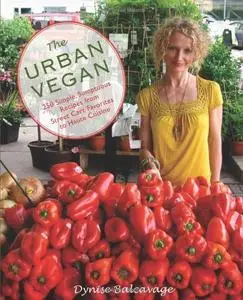 The Urban Vegan: 250 Simple, Sumptuous Recipes from Street Cart Favorites to Haute Cuisine by Dynise Balcavage
2009 | ISBN: 0762752815 | English | 272 pages | PDF | 4 MB
Transforming vegan cooking from "oat cuisine" to "haute cuisine"
Sampling ruby-red organic berries at a farmers' market. Comparing thirty varieties of rice noodles in a Vietnamese food store. Ordering "good & greasy" vegetarian rotis from a street cart. This is the life of the urban vegan, and author Dynise Balcavage brings this cuisine to life in The Urban Vegan. Designed to help vegans―and all readers―find inspiration for a healthy, varied, and delicious diet in each city market, restaurant, and corner store that they visit, this book presents 250 delicious, and even decadent, original vegan recipes inspired by the colorful culinary landscapes of urban areas.
Accompanying the recipes are shortcuts, entertaining ideas, and menu themes that will please even omnivores; an overview of the vegan pantry; and helpful icons that alert readers to low-fat, kid-friendly, fast, omnivore-friendly, and frugal recipes at a glance.