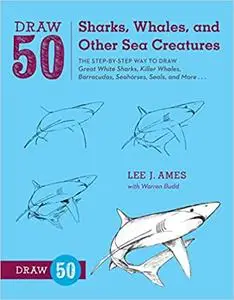 Draw 50 Sharks, Whales, and Other Sea Creatures: The Step-by-Step Way to Draw Great White Sharks, Killer Whales, Barracudas, Seahorses, Seals, and More… by Lee J. Ames
English | 25 Jun. 2012 | ISBN : 0823085716 | 64 pages | True AZW3 | 21 MB
Targeted at young aspiring artists seeking to develop their technical skill and build a repertoire of subjects, Lee J. Amess Draw 50 series shows you how to draw with ease using his signature step-by-step method. His clear instructions help budding artists explore their interests in a fun, familiar way. With over three million copies in print, the Draw 50 series has successfully shown children how to create everything from a robin to a spaceship, Tyrannosaurus Rex to skyscrapers, and UFOs to racing cars.