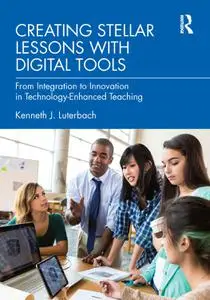 Creating Stellar Lessons with Digital Tools From Integration to Innovation in Technology-Enhanced Teaching
English | 2022 | ISBN: 9781003172284 | 277 pages | True PDF | 7.3 MB
Creating Stellar Lessons with Digital Tools prepares teachers in training and in-service teachers to use technologies for design and development activities with middle and high school students. While software, open resources, handheld devices, and other tools hold great potential to enhance learning experiences, teachers themselves must model technology use in ways that inspire students to become producers and leaders rather than consumers and followers. Featuring concrete applications in social studies, English, mathematics, and science scenarios, this book provides pre-service teachers with seven paths to creatively integrate and innovate with computational thinking, datasets, maker spaces, visual design, media editing, and other approaches.