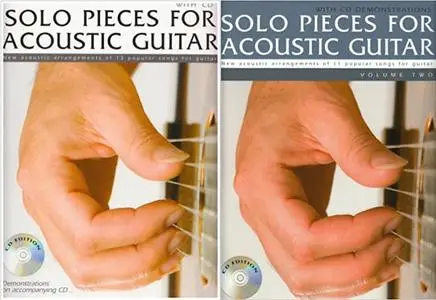 Mark Currey, "Solo Pieces for Acoustic Guitar (Book & CD)", vol. 1 & 2
2008 | ISBN: 1847722040/1847726305 | English | PDF+MP3 | 96 pages | 82.7 MB
New acoustic arrangements of popular songs for Guitar in both standard notation and Guitar tab, arranged and demonstrated by Mark Currey on the accompanying CDs.

Music is written in both standard notation and Guitar TAB making it the perfect material for classical or steel-string guitarists to show off their technique through great pop songs. CDs contains demonstrations of all the pieces. Come nice pieces with a progression of difficulty from intermediate to more advanced. Excellent arrangements and very accurate TAB. Nice arrangements of Angie, Bridge over troubled water and an simple but effective version of Hallelujah. The CDs is good, nicely played, helps a lot if you don't know the tunes.
Vol. 1 :
Billy Joel – And So It Goes
Van Morrison – Brown Eyed Girl
The Stranglers – Golden Brown
The Beatles – Happiness Is A Warm Gun
Abba – Knowing Me, Knowing You
The Doors – Light My Fire
Minnie Ripperton – Lovin' You
Tears For Fears – Mad World
Metallica – Nothing Else Matters
Elton John – Rocket Man
Sting – Shape Of My Heart
Coldplay – Speed Of Sound
Joni Mitchell – Urge For Going

Vol. 2 :
Angie [Rolling Stones, The]
Bridge Over Troubled Water [Simon, Paul]
Hallelujah [Buckley, Jeff]
If You Could Read My Mind [Lightfoot, Gordon]
Let It Grow [Clapton, Eric]
Love Of My Life [Queen]
Out The Blue [Lennon, John]
Redemption Song [Marley, Bob]
Sunday Morning [Velvet Underground, The]
Teardrop [Massive Attack]
Unintended [Muse]