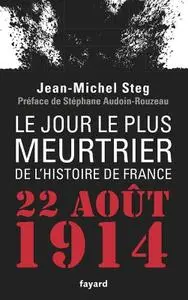 Jean-Michel Steg, "Le jour le plus meurtrier de l'histoire de France : 22 août 1914"
2013 | ISBN: 2213677808 | Français | EPUB | 250 pages | 1.1 MB
27 000 Français sont tués le 22 août 1914, le jour le plus sanglant de l'histoire de France. C'est quatre fois plus qu'à Waterloo, autant que durant les huit années de la guerre d'Algérie. Avant même la bataille de la Marne, Verdun ou le Chemin des Dames.

Où donc ces hommes ont-ils disparu ? Dans quelles circonstances ? Un nombre de tués en une seule journée, sans précédent dans l'histoire de France et sans exemple depuis, ne peut être une simple bizarrerie statistique. C'est l'ambition de ce travail d'apporter quelques explications.

Ce cataclysme meurtrier au tout début du conflit traduit-il les conséquences de choix individuels et collectifs, tactiques, stratégiques ou organisationnels erronés, ou tout simplement malheureux ?

Comment les militaires en viendront-ils à accepter que, face à la létalité du feu au XXe siècle, le soldat ne peut plus mener la guerre dressé sur le champ de bataille, comme il le faisait depuis l'Antiquité, mais doit désormais combattre enterré et dissimulé ? Pour le savoir, il faut suivre Jean-Michel Steg dans les Ardennes belges le matin 22 août 1914.

Jean-Michel Steg est un banquier d'affaires.
Il est diplômé à l'Institut d'Études politiques de Paris (Sciences Po Paris) (1970-1973) et est titulaire d'un Master of Business Administration (M.B.A.) à la Harvard Business School (1977-1979).
En 1979, il commence sa carrière chez Lazard Frères & Co où il restera jusqu'à 1995.
Aprés avoir été Managing Director de Goldman Sachs (2001-2004) et de Citigroup (2004-2009), il
prend la fonction de Senior Managing Director au sein de The Blackstone Group en 2009.
En 2013, il devient Senior Advisor de la banque d'affaires américaine Greenhill pour développer ses relations avec de grands groupes européens, en particulier français.
Passionné d'histoire, Jean-Michel Steg est auteur de l'ouvrage "Le jour le plus meurtrier de l'histoire de France. 22 août 1914" publié en 2013.
Fils de chirurgien Adolphe Steg, il est l'époux de la chasseuse de tête Diane Segalen (arrière-petite-fille du poète Victor Segalen) et père de trois enfants.