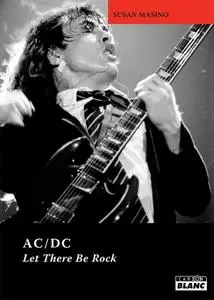 Susan Masino, "AC/DC Let there be rock"
2010 | ISBN: 235779092X | Français | EPUB | 436 pages | 9 MB
Learn how this group of Australian mates became one of the few truly legendary rock and roll bands in history. Author Susan Masino traces the band's roots, from their beginnings in Sydney, Australia in the early 1970s, to trail-blazing the U.S. mainstream, to the devastating death of lead singer Bon Scott in 1980. After that tragedy, the band pulled together and rebounded to the top of the charts with new front man, Brian Johnson, and their watershed album, Back in Black. The book follows the band through four decades of triumph and tragedy, including Malcolm's last performances on the Black Ice tour, and Angus picking up the torch. Through it all, AC/DC continues their quest to build a legion of new fans in the 21st century. Compiled from Susan Masino's interviews with the group across the last 40 years, as well as dozens of new interviews with other musicians and friends of the band, Let There Be Rock reveals the real story of AC/DC.

Biographie de l'auteur
Susan Masino has been a rock journalist since 1977 and is the author of Famous Wisconsin Musicians, Rock 'N' Roll Fantasy: My Life and Times With AC/DC, Van Halen and Kiss, Family Tradition: Three Generations of Hank Williams and AC/DC: FAQ. She published her own music newspaper, Rock Central, for six years and created a radio show for 94.1 WJJO in Madison, WI, which she produced and hosted from 1997-2004. Susan also appears in the DVDs Van Halen: The Early Years and AC/DC: Let There Be Rock.