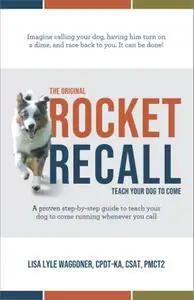 The Original Rocket Recall: Teach Your Dog to Come by Lisa Lyle Waggoner
English | May 20, 2022 | ISBN: 9798985658002, ASIN: B0B1CPQYGY | True EPUB/PDF | pages | 9.5/20.3 MB
Do you want a dog who will come to you the first time—every time? That's what you'll get when you follow the easy, fun, and effective training steps in The Original Rocket Recall™ (with a foreword by Steve White, working dog consultant, and retired police K9 trainer/supervisor).
This easy-to-follow book lets you say goodbye to the embarrassment of calling your dog and getting no response, and hello to recall training that's fun and effective for you and your dog.
You'll learn:
How to build fabulous focus and attention as a foundation for Rocket Recall™
The Check-In Game, Name Game, and Chase Me Game—fun ways to build your dog's attention and desire to come to you
How to create a simple training plan to get your dog running to you from a long distance
Strategies for recall success in highly challenging environments, even around other animals
Ways to avoid—and undo—the common mistakes that undermine a reliable recall
Author Lisa Lyle Waggoner, a certified professional dog trainer and faculty member of The Victoria Stilwell Academy, shares her easy-to-understand training techniques based on today's modern, scientific positive reinforcement training—the alternative to the outdated shock collar compulsory training techniques.
In The Original Rocket Recall™: Teach Your Dog to Come, you'll unleash your dog's focus and enthusiasm like never before so you can safely enjoy off-leash activities.
If you want a dog who will return to you with rocket-like speed the first time—every time—this book is for you!