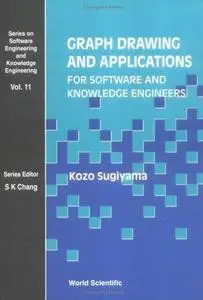 Graph Drawing and Applications for Software and Knowledge Engineers (Series on Software Engineering and Knowledge Engineering, 11) by Kozo Sugiyama (Author) Key Phrases: Sprit;Method
Publisher: World Scientific Publishing Company; 1st edition (June 15, 2002) | ISBN-10: 9810248792 | DjVu | 7,6 Mb | 200 pages
This book is useful for readers who want to visualize graphs as representing structural knowledge in a variety of fields. It gives an outline of the whole field, describes in detail the representative methods for drawing graphs, explains extensions such as fisheye and dynamic drawing, presents many practical applications, and discusses ways of evaluation. It makes the intuitive understanding of these easier by using examples and diagrams, and provides a wealth of references for those readers who wish to know more.
Contents: A Framework for Automatic Graph Drawing Methods; Outlines of Automatic Graph Drawing Methods; Details of Automatic Graph Drawing Methods; Extensions of Automatic Graph Drawing Methods; A Variety of Applications; Applications for Creativity Support.