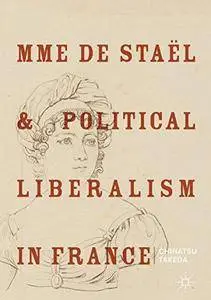 Mme de Staël and Political Liberalism in France Kindle Edition
by Chinatsu Takeda
English | 2018 | ISBN: 9811080860 | 366 Pages | PDF | 3.38 MB
This book sheds light on the unique aspects of 'communal liberalism' in Mme de Staël's writings and considers her contribution to nineteenth-century French liberal political thought. Focusing notably on the 'Considérations sur les principaux événements de la Révolution française', it examines the originality of Stael's liberal philosophy. Rather than contrasting liberalism with either multiculturalism or republicanism, the book argues that Staël's communal liberalism challenges the conventions of nineteenth-century political thought, notably through her assertion of the need to institutionalize an organic intermediary connecting the two spheres, an idea later advanced by thinkers such as Jürgen Habermas. Offering a critical reappraisal of Staël's multifaceted work, this book assesses the political impact of her work, arguing that the political influence of the 'Considérations' permeates the liberal historiography of the French Revolution up to the present day.