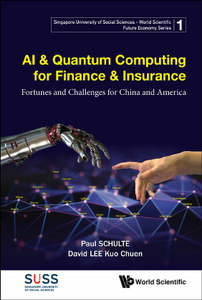 AI & Quantum Computing for Finance & Insurance :
Fortunes and Challenges for China and America
by Paul Schulte and David Kuo Chuen Lee
English | 2019 | ISBN: 981120389X | 691 Pages | ePUB | 32 MB
This book offers a framework and analysis for the current technological landscape between the United States and China across the financial and insurance sectors as well as emerging technologies such as AI, Blockchain, Cloud and Data Analytics and Quantum Computing (ABCDQ). Based on original lecture slides used by the authors, the book presents contemporary and critical views of emergent technologies for a wide spectrum of readers from CEOs to university lecturers to students. The narrative aims to help readers upgrade their technology literacy and to overcome the fear of AI posed by our lizard brain.
If you want to support my blog, then you can buy a premium account through any of my files (i.e. on the download page of my book). In this case, I get a percent of sale and can continue to delight you with new books!