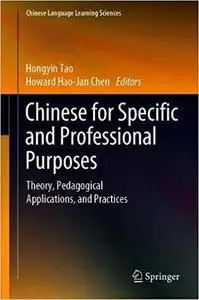 Hongyin Tao, "Chinese for Specific and Professional Purposes: Theory, Pedagogical Applications, and Practices "
English | ISBN: 9811395047 | 2019 | 409 pages | EPUB, PDF | 8 MB + 12 MB
This book, likely the first of its kind in the English language, explores Chinese for specific and professional purposes (CSP) in terms of theorizing and developing practical applications for language teaching and learning. While research in language for specific purposes is thriving for languages such as English, there has been comparatively little such research conducted for Chinese. This volume attempts to fill the gap by bringing together practitioners from a broad international scholarly community, who share common interests yet diverse orientations.
Seventeen papers are included, and address four broad thematic categories: (1) academic Chinese, (2) business Chinese, (3) Chinese for medicine and health care, and (4) Chinese for other broadly defined services and industries (diplomacy, tourism, wine-tasting, etc.). Representing the state of the art in CSP research, the book offers an indispensable guide for anyone interested in theoretical and practical issues in this area of applied Chinese language studies.