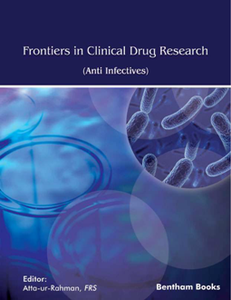 Frontiers in Clinical Drug Research - Anti Infectives (Volume 6)
by Atta-ur-Rahman
English | 2020 | ISBN: 9811425736 | 229 Pages | True PDF | 1.72 MB
Frontiers in Clinical Drug Research - Anti infectives is a book series that brings updated reviews to readers interested in learning about advances in the development of pharmaceutical agents for the treatment of infectious diseases. The scope of the book series covers a range of topics including the chemistry, pharmacology, molecular biology and biochemistry of natural and synthetic drugs employed in the treatment of infectious diseases. Reviews in this series also include research on multi drug resistance and pre-clinical / clinical findings on novel antibiotics, vaccines, antifungal agents and antitubercular agents.
Frontiers in Clinical Drug Research - Anti infectives is a valuable resource for pharmaceutical scientists and postgraduate students seeking updated and critically important information for developing clinical trials and devising research plans in the field of anti infective drug discovery and epidemiology. The sixth volume of this series features these interesting reviews:
- Direct-acting antiviral drugs for treatment of Hepatitis C virus infection
- Plant lattices as anti-infective compounds
- Antimicrobial materials and devices for biomedical applications
- Recent advances in the treatment of toxoplasmosis
- Antimicrobial immunoglobulin prophylaxis and therapy
- Targeting Magnesium Homeostasis as Potential Anti-Infective Strategy Against Mycobacteria
If you want to support my blog, then you can buy a premium account through any of my files (i.e. on the download page of my book). In this case, I get a percent of sale and can continue to delight you with new books!