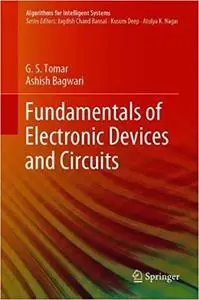 G.S. Tomar, "Fundamentals of Electronic Devices and Circuits "
English | ISBN: 9811502668 | 2020 | 224 pages | PDF | 8 MB
This book focuses on conceptual frameworks that are helpful in understanding the basics of electronics – what the feedback system is, the principle of an oscillator, the operational working of an amplifier, and other relevant topics. It also provides an overview of the technologies supporting electronic systems, like OP-AMP, transistor, filter, ICs, and diodes. It consists of seven chapters, written in an easy and understandable language, and featuring relevant block diagrams, circuit diagrams, valuable and interesting solved examples, and important test questions. Further, the book includes up-to-date illustrations, exercises, and numerous worked examples to illustrate the theory and to demonstrate their use in practical designs.