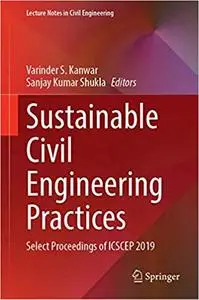 Varinder S. Kanwar, "Sustainable Civil Engineering Practices: Select Proceedings of ICSCEP 2019 (Lecture Notes in Civil Engineering "
English | ISBN: 9811536767 | 2020 | 253 pages | EPUB, PDF | 57 MB + 11 MB
This book comprises select proceedings of the International Conference on Sustainable Civil Engineering Practices (ICSCEP 2019). It covers several important aspects of sustainable civil engineering practices dealing with effective waste and material management, natural resources, industrial products, energy, food, transportation and shelter, while conserving and protecting the environmental quality and the natural resource base essential for future development. The book also discusses engineering solutions to sustainable development and green design issues. Special emphasis is given on qualitative guidelines for generation, treatment, handling, transport, disposal and recycling of wastes. The book is intended as a practice-oriented reference guide for researchers and practitioners, and will be useful for all working in sustainable civil engineering related fields.