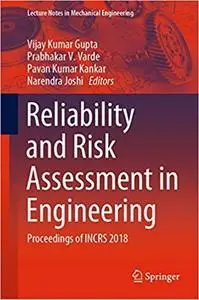 Vijay Kumar Gupta, "Reliability and Risk Assessment in Engineering: Proceedings of INCRS 2018 "
English | ISBN: 9811537453 | 2020 | 558 pages | EPUB, PDF | 87 MB + 20 MB
This volume is a collection of articles on reliability and safety engineering presented during INCRS 2018. The articles cover a variety of topics such as big data analytics and their applications in reliability assessment and condition monitoring, health monitoring, management, diagnostics and prognostics of mechanical systems, design for reliability and optimization, and machine learning for industrial applications. A special aspect of this volume is the coverage of performance, failure and reliability issues in electrical distribution systems. This book will be a useful reference for graduate students, researchers and professionals working in the area of reliability assessment, condition monitoring and predictive maintenance.