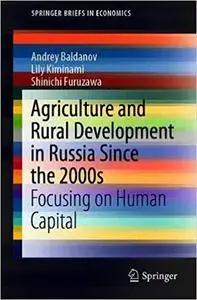 Andrey Baldanov, "Agriculture and Rural Development in Russia Since the 2000s: Focusing on Human Capital "
English | ISBN: 9811546649 | 2020 | 68 pages | EPUB, PDF | 3 MB + 3 MB
This book clarifies the status quo and mechanisms of agricultural and rural development in today's Russia, especially focusing on human capital and human development. It provides readers insights into agricultural and rural development from the perspectives of agricultural economics, developmental economics, and regional–spatial science. Further, it addresses key research questions such as whether agricultural development in Russia has made significant strides, whether it has improved the nation's food security and rural development, and whether structural changes in the agricultural sector as well as human capital have had impacts on agricultural development since the 2000s. In terms of analytical methods, structural equation modeling and stochastic frontier analysis are employed to capture the relationship between agriculture and rural development in regional Russia. In closing, policy challenges are identified to promote social innovation for rural development by enhancing the human capital of rural youth, including entrepreneurship. Given its scope, the book is highly recommended for all readers seeking an in-depth and up-to-date overview of agricultural and rural development in contemporary Russia.