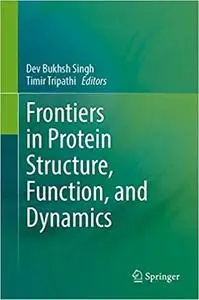 Dev Bukhsh Singh, "Frontiers in Protein Structure, Function, and Dynamics"
English | ISBN: 981155529X | 2020 | 464 pages | EPUB, PDF | 34 MB + 9 MB
This book discusses a broad range of basic and advanced topics in the field of protein structure, function, folding, flexibility, and dynamics. Starting with a basic introduction to protein purification, estimation, storage, and its effect on the protein structure, function, and dynamics, it also discusses various experimental and computational structure determination approaches; the importance of molecular interactions and water in protein stability, folding and dynamics; kinetic and thermodynamic parameters associated with protein-ligand binding; single molecule techniques and their applications in studying protein folding and aggregation; protein quality control; the role of amino acid sequence in protein aggregation; muscarinic acetylcholine receptors, antimuscarinic drugs, and their clinical significances.
Further, the book explains the current understanding on the therapeutic importance of the enzyme dopamine beta hydroxylase; structural dynamics and motions in molecular motors; role of cathepsins in controlling degradation of extracellular matrix during disease states; and the important structure-function relationship of iron-binding proteins, ferritins. Overall, the book is an important guide and a comprehensive resource for understanding protein structure, function, dynamics, and interaction.