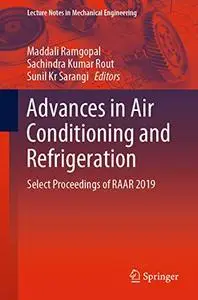 Advances in Air Conditioning and Refrigeration: Select Proceedings of RAAR 2019 (Lecture Notes in Mechanical Engineering)
by Maddali Ramgopal
English | 2021 | ISBN: 9811563594 | 434 Pages | PDF | 21 MB
This book presents selected peer-reviewed papers from the International Conference on Recent Advancements in Air Conditioning and Refrigeration (RAAR) 2019. The focus is on current research in a very topical area of HVAC technology, which has wide-ranging applications. The topics covered include modern air conditioning and refrigeration practices, environment-friendly refrigerants, high-performance components, computer-assisted design, manufacture, operations and data management, energy-efficient buildings, and application of solar energy to heating and air conditioning. This book is useful for researchers and industry professionals working in the field of heating, air conditioning and refrigeration.