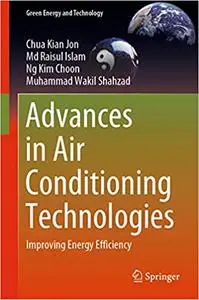 Advances in Air Conditioning Technologies: Improving Energy Efficiency (Green Energy and Technology)
by Chua Kian Jon
English | 2021 | ISBN: 9811584761 | 317 Pages | PDF EPUB | 73 MB
This book highlights key recent developments in air conditioning technologies for cooling and dehumidification with the specific objectives to improve energy efficiency and to minimize environmental impact. Today, air conditioning, comprising cooling and dehumidification, is a necessity in commercial and residential buildings and even in many industrial processes. This book provides key update on recent developments in air conditioning systems, cooling cycles and innovative cooling/dehumidification technologies. Key technologies related to cooling include heat-driven absorption and adsorption cooling and water-based dew point evaporative cooling. Technologies connected with dehumidification involve new generations of adsorbent–desiccant dehumidifiers, liquid-based desiccants and membranes that sieve out water vapor from air. Losses in cooling cycles and thermo-economic analysis for a sustainable economy are also judiciously documented.