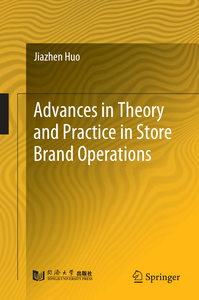 Advances in Theory and Practice in Store Brand Operations
by Jiazhen Huo
English | 2021 | ISBN: 9811598762 | 253 Pages | PDF EPUB | 11 MB
This book is developed by focusing on the four issues: (1) product strategy of private brand; (2) pricing strategy of private brand; (3) channel strategy with private brand introduction; and (4) supply chain coordination with private brand introduction. Private brand (PB), also known as private label (PL) or store brand (SB), refers to a brand created and controlled by a retailer. In the 1960s and 1970s, private labels began to emerge in France and England. Although private label has grown rapidly worldwide, market share varies greatly from region to region. According to Nielsen's 2018 Global Private Label Report, the largest markets for private-label products are found primarily in the more mature European retail markets. In recent years, many large domestic retail enterprises have launched their own brand products. With the growth of e-commerce, some online retailers have also launched private-label goods. JD started to introduce its private brands in 2010, with annual sales of its private brand products reaching several hundred million yuan. However, at present, the market share of China's private label is only 1-3%, which still has a big gap compared with Europe and America.The main challenges to China's private label lie in private brand operations management. Among them, how to select the correct product categories, how to make pricing decision, how to restructure channels and how to coordinate supply chain after introducing private brands are four operations management problems need to be solved.