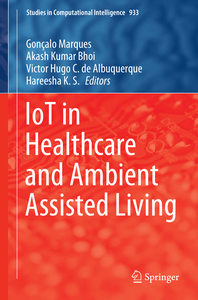 IoT in Healthcare and Ambient Assisted Living: 933 (Studies in Computational Intelligence)
by Gonçalo Marques
English | 2021 | ISBN: 9811598967 | 423 Pages | PDF EPUB | 36 MB
This book presents the state of the art of Internet of Things (IoT) from the perspective of healthcare and Ambient Assisted Living (AAL). It discusses the emerging technologies in healthcare services used for healthcare professionals and patients for enhanced living environments and public health. The topics covered in this book include emerging eHealth IoT applications, Internet of Medical Things, health sensors, and wearable sensors for pervasive and personalized healthcare, and smart homes applications for enhanced health and well-being. The book also presents various ideas for the design and development of IoT solutions for healthcare and AAL. It will be useful for bioengineers and professionals working in the areas of healthcare as well as health informatics.