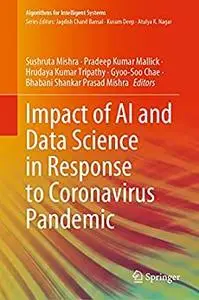 Impact of AI and Data Science in Response to Coronavirus Pandemic (Algorithms for Intelligent Systems)
English | 2021 | ISBN: 9811627851 | 336 Pages | PDF EPUB | 94 MB
The book presents advanced AI based technologies in dealing with COVID-19 outbreak and provides an in-depth analysis of variety of COVID-19 datasets throughout globe. It discusses recent artificial intelligence based algorithms and models for data analysis of COVID-19 symptoms and its possible remedies. It provides a unique opportunity to present the work on state-of-the-art of modern artificial intelligence tools and technologies to track and forecast COVID-19 cases. It indicates insights and viewpoints from scholars regarding risk and resilience analytics for policy making and operations of large-scale systems on this epidemic. A snapshot of the latest architectures, frameworks in machine learning and data science are also highlighted to gather and aggregate data records related to COVID-19 and to diagnose the virus. It delivers significant research outcomes and inspiring new real-world applications with respect to feasible AI based solutions in COVID-19 outbreak. In addition, it discusses strong preventive measures to control such pandemic.