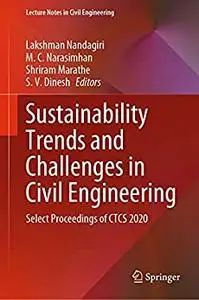 Sustainability Trends and Challenges in Civil Engineering
English | 2022 | ISBN: 9811628254 | 1086 Pages | PDF | 38 MB
This book presents the select proceedings of the International Conference on Civil Engineering Trends and Challenges for Sustainability (CTCS 2020). The chapters discuss emerging and latest research and advances in sustainability in different areas of civil engineering, which aim to provide solutions to sustainable development. The contents are broadly divided into the following categories: construction technology and building materials, structural engineering, transportation and geotechnical engineering, environmental and water resources engineering, and RS-GIS applications. This book will be of potential interest to beginners, researchers, and professionals working in the area of sustainable civil engineering and related fields.