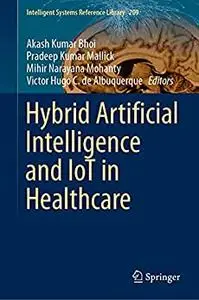 Hybrid Artificial Intelligence and IoT in Healthcare
English | 2021 | ISBN: 9811629714 | 341 Pages | PDF | 8 MB
This book covers applications for hybrid artificial intelligence (AI) and Internet of Things (IoT) for integrated approach and problem solving in the areas of radiology, drug interactions, creation of new drugs, imaging, electronic health records, disease diagnosis, telehealth, and mobility-related problems in healthcare. The book discusses the convergence of AI and the hybrid approaches in healthcare which optimizes the possible solutions and better treatment. Internet of Things (IoT) in healthcare is the next-gen technologies which automate the healthcare facility by mobility solutions are discussed in detail. It also discusses hybrid AI with bio-inspired techniques, genetic algorithm, neuro-fuzzy algorithms, and soft computing approaches which significantly improves the prediction of critical cardiovascular abnormalities and other healthcare solutions to the ongoing challenging research.