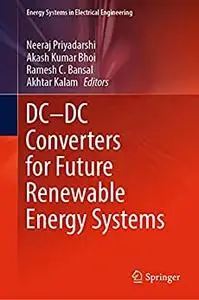 DC—DC Converters for Future Renewable Energy Systems (Energy Systems in Electrical Engineering)
English | 2022 | ISBN: 9811643873 | 754 Pages | PDF EPUB | 104 MB
The book presents the analysis and control of numerous DC-DC converters widely used in several applications such as standalone, grid integration, and motor drives-based renewable energy systems. The book provides extensive simulation and practical analysis of recent and advanced DC-DC power converter topologies. This self-contained book contributes to DC-DC converters design, control techniques, and industrial as well as domestic applications of renewable energy systems. This volume will be useful for undergraduate/postgraduate students, energy planners, designers, system analysis, and system governors.