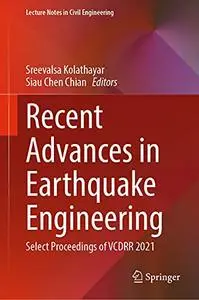 Recent Advances in Earthquake Engineering: Select Proceedings of VCDRR 2021
English | 2022 | ISBN: 9811646163 | 528 Pages | PDF | 23 MB
This book presents the select proceedings of the Virtual Conference on Disaster Risk Reduction (VCDRR 2021). It emphasizes on the role of civil engineering for a disaster-resilient society. It presents latest research in geohazards and their mitigation. Various topics covered in this book are earthquake hazard, seismic response of structures and earthquake risk. This book is a comprehensive volume on disaster risk reduction (DRR) and its management for a sustainable built environment. This book will be useful for the students, researchers, policy makers and professionals working in the area of civil engineering and earthquake engineering.