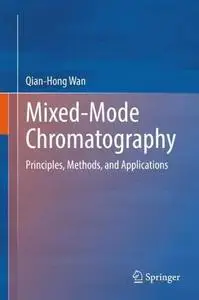 Mixed-Mode Chromatography: Principles, Methods, and Applications by Qian-Hong Wan
2021 | ISBN: 9811654840 | English | 495 pages | EPUB | 53 MB
The book is about the technology and application of Mixed-mode chromatography (MMC). Unlike conventional single-mode HPLC, which resolves the analytes primarily based on their ionic or hydrophobic properties, MMC employs multifunctional stationary phases to exploit at least two modes of interactions (i.e., ionic and hydrophobic) with the analytes and as such often provides resolution that far exceeds that observed with a single-mode process. Over the past two decades, MMC has developed into an important analytical and purification tool in a number of applications in pharmaceutical and biotechnology industries. The technique has been used widely for the analyses of nucleic acids, amino acids, peptides, proteins, glycoproteins, carbohydrates, antibiotics, vaccines, and other products. The purpose of this book is to present a comprehensive survey of mixed-mode chromatography and is intended as a reference guide for graduate students and experienced scientists in pharmaceutical and biotechnology disciplines wishing to gain a deep understanding of this continuously evolving technology.