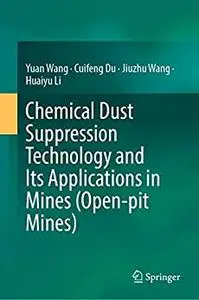 Chemical Dust Suppression Technology and Its Applications in Mines (Open-pit Mines)
English | 2022 | ISBN: 981169379X | 330 Pages | PDF | 7 MB
This book focuses on the study of chemical dust suppression in mine dust pollution control by means of theories, experiments, computer simulation, and case application, aiming at providing chemical dust suppression solutions for mining worksites. It has seven chapters, including the following contents: (1) introduces fundamental theories and applications of chemical dust suppression, analyzes the dust source intensity of worksites and the mechanisms of dust generation, and summarizes the dust control measures for different mining worksites. (2) According to the mechanisms of dust generation in different mining worksites, targeted dust suppressants were developed. Through optimization by monomer experiment and orthogonal experiment, the optimum formula of different types of dust suppressants was obtained, and its properties were characterized. (3) The dust suppressant field application process was introduced, and the economic benefits were analyzed. This book is expected to provide valuable references both for researchers and engineering technicians engaged in environmental engineering, safety engineering, occupational health, and mining metallurgical engineering, and it also serves as a textbook for graduate students in above disciplines.