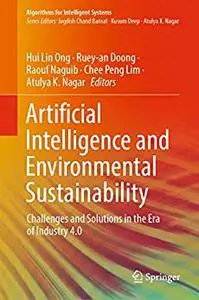 Artificial Intelligence and Environmental Sustainability: Challenges and Solutions in the Era of Industry 4.0
(Algorithms for Intelligent Systems)
English | 2022 | ISBN: 9811914338 | 374 Pages | PDF EPUB | 33 MB
The book discusses comprehensive and cutting-edge research and development endeavors, as well as innovative solutions, in implementing AI and related technologies to meet and undertake current and future challenges towards ensuring environmental sustainability. It explores the future research directions in the era of Industry 4.0. In the beginning, an overview of the utilization of Al for environmental sustainability is provided. The remaining chapters of the book cover the technological and application aspects of Al for environmental sustainability with illustrative examples. Finally, challenges with respect to deploying Al to solving environmental problems and the future trends are covered.