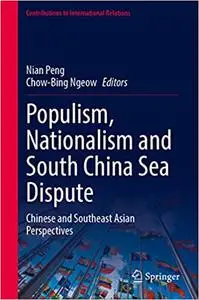 Nian Peng, "Populism, Nationalism and South China Sea Dispute: Chinese and Southeast Asian Perspectives "
English | ISBN: 9811914524 | 2022 | 169 pages | PDF | 3 MB
This book analyzes two main trends of prevailing populism and nationalism in China and Southeast Asian nations and rising tensions in the South China Sea (SCS) by experts from China and Southeast Asia. The book involves the most recent developments and indicates future trends. This is the first book which goes deeply into the SCS dispute from the perspectives on populism and nationalism and thus highlighting their significance in Asian politics. The broad approach adopted in the book with focus on all important countries expands the scope of readership beyond specific academic community. The book interests academics, policy makers, journalists, general reader, and students of Asian politics. The main body of this book is divided into 8 parts, in which the first section briefly introduces the aims and scope of this book. The following 7 parts look at the new development of populism and nationalism in China and ASEAN claimant states and some important non-claimant states mainly including the Philippines, Vietnam, Malaysia, Indonesia, Singapore, Cambodia, and its multiple effects on the SCS dispute.
Read more