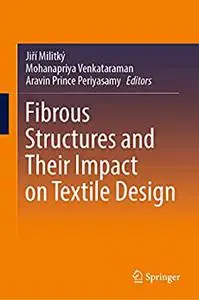 Fibrous Structures and Their Impact on Textile Design
English | 2023 | ISBN: 9811948267 | 262 Pages | PDF (True) | 10 MB
Books on Textiles tend to focus solely on aesthetic or technical points of view. Designers' understanding of special technical aspects of textile structure or the ability of researchers to grasp the design aspects would result in quantum leaps in innovations and creativity in the Textile domain. This book presents a holistic view integrating the viewpoints of designers and researchers. It presents previously unexplored features or possibilities, mainly in the field of textile structure constructions and characteristics. The main aim is a unique proper blending of both the technical and aesthetic sides of textile. Without compromising on the technicalities, it simplifies complex concepts to elevate the understanding of fashion designers. On the other hand, it also provides a viewpoint on aesthetics. The chapters are designed to provide a good balance of content for both fashion designers and professionals. The initial chapter sets the foundation of understanding with a healthy discussion about the latest technical trends of textiles' functionalities and their new applications. A dedicated chapter discusses the practical use of lighting effects of side-emitting optical fibers in conjunction with color effects for textile design purposes. Further chapters deal with smart textiles design in the context of sensation and perception, basic aspects of textiles structures necessary for their rational design, and color characteristics of materials useful for designers. The book includes a special chapter on analyzing the business landscape of textile design. Overall, this book is expected to cater to the needs and give special knowledge important for both textile specialists and fashion designers.