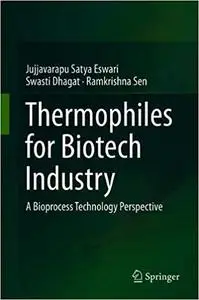 Jujjavarapu Satya Eswari, "Thermophiles for Biotech Industry: A Bioprocess Technology Perspective"
English | ISBN: 9813299185 | 2019 | 111 pages | EPUB, PDF | 5 MB + 3 MB
Thermophiles and hyperthermophiles exhibit great biotechnological potential, as they can be utilized in processes which require higher temperatures. This book comprehensively deals with all the aspects of thermophiles, starting from the source of these organisms to their latest applications. In addition it presents a compilation of all compounds produced by various thermophilic microorganisms. Due to their application in everyday life, the demands of enzymes that can work at higher temperature have been increasing. In order to keep pace with the increasing demand the industries have to search novel thermophiles producing their product of interest. Hence, this book will be of value for industries working on various biochemical products produced by these thermophiles as well as for scientists and research scholars working on microbiology and products derived from microorganisms.