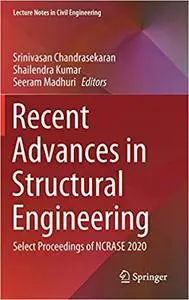 Recent Advances in Structural Engineering: Select Proceedings of NCRASE 2020
by Srinivasan Chandrasekaran
English | 2021 | ISBN: 9813363886 | 161 Pages | PDF EPUB | 56 MB
The book presents the select proceedings of National Conference on Recent Advances in Structural Engineering (NCRASE 2020). Various topics covered in this book include advanced structural materials, computational methods of structures, earthquake resistant analysis and design, analysis and design of structures against wind loads, pre-stressed concrete structures, bridge engineering, experimental methods and techniques of structures, offshore structures, composite structures, smart materials and structures, port and harbor structures, structural dynamics, high rise structures, sustainable materials in the construction technology, advanced structural analysis, extreme loads on structures, innovative structures, and special structures. The book will be useful for researchers and professional working in the field of structural engineering.