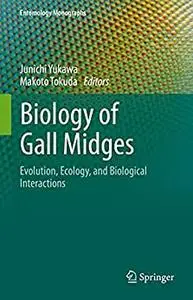 Biology of Gall Midges: Evolution, Ecology, and Biological Interactions (Entomology Monographs)
English | 2021 | ISBN: 9813365331 | 296 Pages | PDF | 8 MB
This book provides practical ecological, ethological, evolutionary, and biogeographic data for gall-inducing cecidomyiids, their galls and host plants, based on field surveys, laboratory experiments and genetic analysis. It refers to various researches on gall-inducing insects published by a world of biologists. Practical methods of field surveys and data analysis are presented, as well as topics on parasitoids, invasive pests, and beneficial gall midges that would be useful for applied entomologists. Readers can learn an ecological way of thinking through diverse interrelations between insects and plants, and the analysis of ecological data from gall-inducing cecidomyiids.