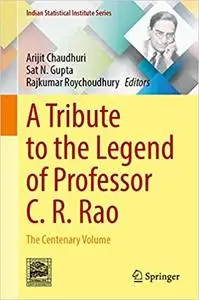 A Tribute to the Legend of Professor C. R. Rao
English | 2021 | ISBN: 9813369906 | 164 Pages | PDF | 6 MB
This book includes speeches given during five seminar sessions held in honor of Prof. C. R. Rao, on his 100th year. This book also contains a few write-ups touching on the diverse aspects of this august personality. The chapters pay tribute to Prof. C. R. Rao, the Padma Vibhushan awardee, by discussing his life and contributions to the field of statistics. The book also includes a chapter by the Abel Prize winner Prof. S. R. Varadhan who happened to successfully complete his Ph.D. under the guidance of Prof. C. R. Rao.