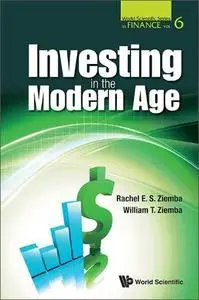 Investing In the Modern Age (World Scientific In Finance) by Rachel E. S. Ziemba, William T. Ziemba
English | June 10, 2013 | ISBN: 9814518832, 9814504742 | EPUB | 588 pages | 28.6 MB
This book discusses many key topics in investment and risk management, the global economic situation and the shift in global investment strategies. It was largely written during the period of 2007-12, one of the most tumultuous times in global financial markets which called into question not only tenets of economic forecasting and also asset allocation and return strategies. It contains studies of how investors lose money in derivative markets, examples of those who did not and how these disasters could have been prevented. The authors draw some conclusions on the impact of the structural shifts currently underway in the global economy as well as how cyclical trends will affect these industries, the globe and key sectors. The authors zoom in on key growth areas, including emerging markets, their interlinkages and financial trends.
The book also covers risk arbitrage and mean reversion strategies in financial and sports betting markets, plus incentives, volatility aspects, risk taking and investments strategies used by hedge funds and university endowments. Topics such as stock market crash predictions, asset liability planning models, various players in financial markets and the evaluation of the greatest investors are also discussed.
The book presents tools and case studies of real applications for analyzing a wide variety of investment returns and better assessing the risks which many investors have preferred to ignore in the search of returns. Many security market regularities or anomalies are discussed including political party and January effects as is the process of building scenarios and using Kelly and fractional Kelly strategies to optimize returns.